Above Ground Pools
Above Ground Pool Options
Landscape Design
Exclusive Features
Pool Installation

Inground Fiberglass Pools
Fiberglass Pool Information
Fiberglass Pool Installation
Pool Filters & More
Filters and Pumps
Pool Products
Inground Fiberglass Pool Information
Why You Should Own A Fiberglass Pool
Choosing a fiberglass pool is more than creating a place for swimming and fun. It is a solid investment in your property and it's value, and a delightful long-term addition to your life style. Your decision to purchase a fiberglass pool means many years of family enjoyment including healthful exercise in a state-of-the-art product that combines long lasting durability with aesthetically pleasing design.

You will enjoy countless hours of mental and physical relaxation including gatherings of family and friends private romantic evening swims, sunset reflections on your own terrace, and those quiet relaxing mornings pool side.

Michigan Swim Pool is dedicated to the concept that a pool should have lasting beauty, be easy to maintain without costly repairs and upkeep. Fiberglass pools use the latest technology for use in the manufacturing. Fiberglass pools are made from state-of-the-art composite technology including 100% unblended Vinyl Ester Resins. Therefore, we offer numerous advantages over other fiberglass, concrete and vinyl-liner pools. Since the first fiberglass products were produced in the mid 50s, fiberglass led a quiet revolution in the construction of swimming pools, boats, and many other items. The new technology of fiberglass construction was adapted from the boat industry in the late 50s and is becoming the product of choice for the swimming pool industry. Even today, varying degrees of quality exist in the manufacture of fiberglass pools. Our fiberglass pools have received national recognition for attention to detail, use of the finest materials and latest technology for production. All of this adds up to long-term durability enabling the pools to come with a 35-year pool shell warranty against leaking caused by structural defects in the laminate.

Advantages of Owning a Fiberglass Pool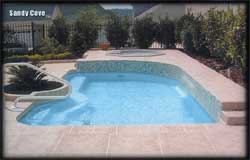 Your investment in a fiberglass pool over other concrete and vinyl liner pools is enhanced by its long term durability and the savings in monthly chemical, electric and maintenance costs.

Advantages of fiberglass also include a smooth, non-abrasive finish; an inert composition that helps to inhibit algae formation, lowering chemical and maintenance costs.

Unlike concrete pools, fiberglass pools never need resurfacing (repainting, re plastering or remarciting) or liner replacement like vinyl-liner pools. Fiberglass pools are also 17 times stronger than concrete pools, while still exhibiting a superb flexible strength and enhanced flexibility; enabling its pools to withstand expanding soil conditions and pressure as a result of changing temperatures.

Commitment to Manufactured Quality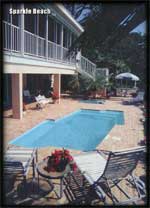 We sell Blue Hawaiian Fiberglass pools that are constructed under strict quality control standards that include a combination of technical expertise, the latest technology in manufacturing, engineering and design, with a strong commitment to detail.

Blue Hawaiian Fiberglass Pools are produced as a one-piece seamless fiberglass unit designed and manufactured using the highest quality fiberglass cloth and most technically advanced resins under strictly supervised factory conditions.

Each pool is individually crafted by hand, with the thickness of the polymer coatings being specified within a few thousandths of an inch. These methods are further assured by the personal inspection of each and every pool before shipment.